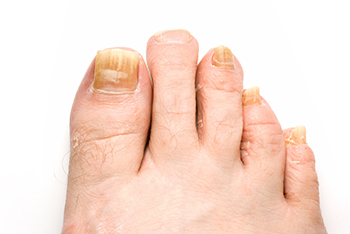 Best Treatments for Toenail Fungus in Texas
Toenail fungus is caused by an infection that thrives on nails. This fungus is the same as those found in athlete's foot, jock itch and ringworm. The fungus gets inside toenails through nail cracks. In some cases, the fungus also uses skin lesions to get inside nails. Signs of toenail fungus include thickening of toenails, changing nail color, deformities and pain. Although toenail fungus may appear as a mild nail infection, you should still seek treatment since all infectious diseases get worse over time. Don't think that toenail fungus is just a cosmetic problem that you can ignore. If left untreated, it can cause:
Fungus Replication
The American Osteopathic College of Dermatology confirmed that the fungus that causes toenail infection could affect other parts of the body. Toenail fungus may trigger athlete's foot and genital infections. People who wear shoes all day are more prone to developing toenail fungus complications because fungi grow in a warm, dark and moist environments.
Persistent Foot Pain
Once toenail fungus penetrates the deep layers of your nails, you'll experience recurring pain that will continue to worsen over time. Untreated toenail fungus can affect your ability to walk.
Compromised Immune System
Immunocompromised people must treat toenail fungus infections quickly because their bodies cannot fight the intrusion of toenail fungus. People who have other illnesses have weakened immune systems and can be easily targeted by toenail fungus with severe complications.
Destruction of Toenails
If you don't treat toenail fungus it may completely destroy your nails and the fungus replicates and thrives on the nail bed. An overwhelming number of fungi will gradually tear the nail from its bed, a condition called onycholysis. You could completely lose your nails in a few days.
Best Treatments for Toenail Fungus
If you want the best treatments for toenail fungus, try laser toenail fungus treatment. Laser toenail fungus treatment is proven effective at killing fungi and cleaning your nails. It is also 100% safe and 80% more effective when compared to conventional medical procedures. The cost of laser surgery for toenail fungus may vary from one clinic to another. On average, a single FDA-approved laser toenail fungus treatment costs about $1,000, yet it's 100% effective.
Aside from killing toenail fungus, laser treatments also promote cleaner, clearer nails. Laser toenail fungus treatment became more popular when the FDA approved it as a safe treatment for toenail fungus. Overall, laser treatment also continues to be the best treatment for toenail fungus. As long as the patient follows the instructions given by the doctor, three laser sessions are enough to kill toenail fungus completely.
In Dallas, you'll find many clinics offering laser toenail fungus treatments. Unfortunately, not all of these clinics are capable of delivering effective, high-quality laser treatments. To find the best treatments for toenail fungus in Dallas, talk to people who have firsthand experiences with various services and read reviews online.
Graff Foot Ankle and Wound Care offers laser and conventional treatments for toenail fungus. We may also recommend oral and topical medications to alleviate your condition. The most common oral medication for toenail fungus is terbinafine. We often prescribe this medicine for patients with toenail fungus.
Unlike other clinics in Dallas, you will not experience recurring toenail fungus at Graff Foot, Ankle and Wound Care. We eliminate toenail fungus for good. Our professional podiatrists are always ready to address your foot problems.
Are you suffering toenail fungus? Schedule an appointment with Graff Foot Ankle and Wound Care. Call (972) 403-7733 today or use our convenient Request an Appointment form to schedule your visit.