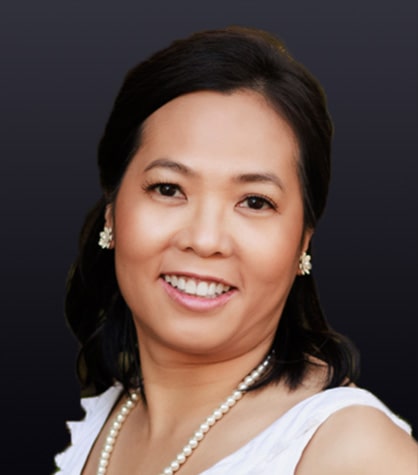 Theresa Nguyen, DPM
Dr. Nguyen is a board-certified podiatrist and a diplomat by the American Board Podiatric Medicine as well as a Certified Wound Care specialist.
Dr. Nguyen strives to treat every patient as if she were in their "shoes." This involves being honest with them about their foot/ankle health, listening to their needs with care and compassion, and spending the time to ensure all their foot/ankle concerns are addressed. She believes in building a partnership with her patients that rooted in trust. When concerns arise outside the clinic visit, Dr. Nguyen makes a point to be available, by phone or message, to her patients.
The best thing for Dr. Nguyen is knowing her patients doing very well, knowing that she plays a part in adding value into their life and help them reaching their goal, either to be able to walk without pain or to be able to run a marathon. Though she is fully capable of handling any challenge, her favorite cases are foot, ankle, and heel pain, biomechanics, dermatology, diabetic foot care, ingrown toenails, and wound care.
Dr. Nguyen is relocating from Seattle, Washington with more than 10 years experience working in both hospital, wound care center, and private clinic setting. She is excited to be working in Texas, adding value to the Dallas community. Dr. Nguyen is also fluent in Vietnamese and excited to add value to the small Vietnamese community in Dallas as well. She is adamant in giving every one of her patients the best solutions to ensure their confidence that they are in the best care.
Dr. Nguyen earned her bachelor of science degree in biochemistry at University of Washington. After graduating, she had an opportunity to go on a medical mission trip to Vietnam with "Healing the Children" group. While she shadowed a wide variety of experienced physicians, that experience inspired her passion in helping people via foot and ankle specialization as her desired career path. Dr. Nguyen received her Doctor of Podiatric Medicine Degree at the California School of Podiatric Medicine. In order to complete her residency training, she traveled to New York City, where she completed a three-year surgical residency training at New York Methodist Hospital and North Shore Long Island Jewish Hospital. Her comprehensive training focused on forefoot and rearfoot reconstructive surgery, diabetic limb salvage, HBO and wound care.
When not at work, you can find Dr. Nguyen enjoying family time and creating memories with her husband and 3 young children either through school, church or community activities.
Doctor Nguyen is an extremely hard-working individual and always looking to better herself. When you come to Graff Foot, Ankle and Wound Care, you can be confident that your needs and expectations will be exceeded with a patient-focused person like Doctor Nguyen.